P-SERIES – PLUG VALVES
Features
-Pressure rating up to 3000psig (206bar) @70°F (21°C).
-Temperature rating from -10° F to 400°F (-23°C to 204°C) with PIFE coated vitan seal.
-Small and compact design.
-Easy maintenance and cleaning.
-Size available up to 1/2″ tube and pipe.
-Body material available  in 316 stainless steel and brass.
-100% factory tested.

Diagram And Table of Dimensions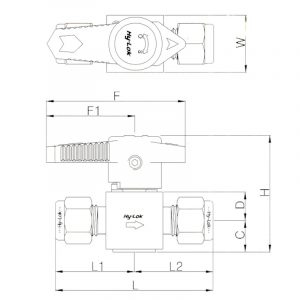 DIAGRAM AND TABLE OF DIMENSIONS Available Basic Part Number : P1VH-2T, P1VM-2N, P1VF-2N, P1VH-4T, P1VMH-4N4T, P1VM-4N, P1VF-4N, P1VF-4R, P1VMF-4N, P1VH-6M, P2VH-6T, P2VH-8T, P2VM-8N, P2VF-8N, P2VF-8R, P2VH-10M, P2VH-12M Enquiry