NORMA HEAVY DUTY HOSE CLAMPS OVERVIEW
NormaCLAMP® GBS
Heavy Duty Clamps to DIN 3017
NormaCLAMP® GBS are particularly suited for sealing suction and pressure lines with plastic or steel reinforcements and high shore hardness. Their distinguishing feature is the extremely high band tensile force. The assembly of NormaCLAMP® GBS is easily completed by means of either manual, pneumatic or electric standard tools.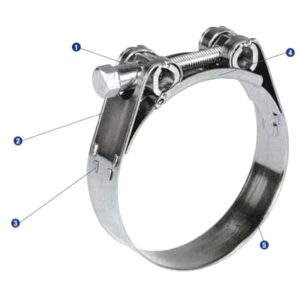 (1) W1/W2/W3
New specially designed bolt with integrated spacer
improved efficiency, cannot get lost.
W5 Hexagonal socket screw.
(2) Reinforced loops
Allow to withstand significantly higher torques.
(3) Mechanically locked closure
No welding points, no contact corrosion
(4) Bridge
 Optimal hose protection
(5) Robust band with rounded edges
Protection againts injuries and damage to the hose surface
NormaCLAMP® GBS Multipart version
The 2-part version of NormaCLAMP® GBS is an additional clamp type in this range